Auction Sentry Deluxe review
Auction Sentry Deluxe v. 1.7.0
by Charles Akin
26. february 2007
When I buy a product, I am always a bit skeptical about the product claims. I hate spending my hard earned money on products and services that fall short of their marketing hype. With Auction Sentry, I did not have to worry about that.
Please note that this review is about version 1.7.0 and the current version is 3.2.5. Features as well as bugs may or may not have been changed since the version upgrade. Always refer to developer homepage for more information.
If you are looking for an online auction tool that will help you manage your auctions and become more successful with your online buying and selling, then you might want to take a look at Auction Sentry.
We seldom get a second opportunity to make a good first impression. Auction Sentry Deluxe does not need a second opportunity. The download and installation processes are similar to those of other software and require no real study or decision making on the user's part. The main screen has the familiar "windows like" feel that instills trust and confidence. The developers were kind enough to supply ample features without overwhelming the user with an excessive amount of menu and tool options. The product technology was used wisely, and I was not intimidated by new and unfamiliar technology.
Auction Sentry Deluxe can be downloaded from several sites, but I chose to download from Auction Sentry's home page. I was pleased at how painless it was. I was able to perform the download without having to first read multiple pages of marketing information.
The software installation went very smoothly. I had to make the typical choices about where to store the program files, and basic license agreements questions and that was it.
I use XP Professional as my operating system, and I experienced no installation exceptions or problems.
The program normally runs in the background, and refreshes itself with the latest auctions data at interval determined by the user. I have been running the program for several days, and I have not experienced any system performance issues, or program conflicts.
The menu choices are easily understood, and offer the users a wide variety options for managing their auction activity. The seamless integration with eBay and the built-in browser make it very convenient for the users to manage their auctions from a single point of operation.
Most of the toolbar icons are familiar. The user can place the cursor over any icon to get a text description of the icon's function. The developers did a good job of keeping menu and toolbar choices to a minimum. They kept their focus on functionality, not fluff. This sure makes the product easier to navigate.
The documentation is well written, but leaves a bit to be desired. For example, the menu option "Actions" contains an item "Override Shipping Displayed" I could find no reference to this action using the help system. Although I figured out how to use this action, I am not really sure why it is needed.
I installed the trial version of Auction Sentry Deluxe. I am always a bit cautious about evaluating and reviewing trial versions because of the limited functionality. But that's not the case with this product. When you install Auction Sentry Deluxe, you get the full version. You are only limited in the amount of time you can use it, which is ten (10) days. I can assure you that it will not take anywhere near that long to learn how to use this software. Within a few minutes you will have a good understanding of the basics, and within a few hours you can easily learn to master the more advanced features.
The product features are not only easy to use; they have been designed to provide the user with a competitive edge in managing his/her auction activities. In my opinion, the sniping feature is what makes Auction Sentry Deluxe worth the money. In just a few hours following the installation of the software on my personal computer I had won three auctions. I won these in the last few seconds prior to the auction close.
I am also impressed with the file exporting features that Auction Sentry Deluxe includes. The user has the choice of creating an Excel or tab delimited file for exporting. This comes in handy for those of us who like to manipulate our own data.
Auction Sentry Deluxe contains multiple options for displaying auction items on the grid. For example, the user can choose to see only the "open items", or only the "closed items" or he/she can display "all items". It might be helpful if the data could be filtered to show only lost auctions or won auctions, but that feature is not available yet.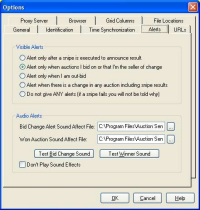 The user also has the option of sorting the auction items by column. For example, if the user wishes to sort the data to see which items are ending the soonest, then he/she can simply click once on the column heading for "Time Remaining" and the grid display will show auction items sorted in ascending order by the "Time Remaining" column. A second click on the column header will sort the data in descending order by the "Time Remaining" column.
Another cool Auction Sentry feature worth noting is the "Alert" system. Based on parameters established by the user, both audio and visual alerts are provided when an auction item has a change in status. This is particularly useful if the user sets a low snipe bid, and another bidder exceeds the snipe amount before the end of the auction. When the alert is received, the user has an opportunity to adjust his/her snipe bid to a higher amount.
As I mentioned earlier, the alert parameters are established by the user. This is accomplished by selecting "Options" from the "Tools" menu, and then clicking on the "Alerts" tab. The screenshot in the image above, provides a look at the various alert parameters.
In my opinion, the "Alerts" feature is the second most important feature of this product. Used in conjunction with the auction sniping feature, the user's odds for winning auctions are greatly increased.
While I see no evidence that artificial intelligence has been used in the programming of this product, it is none-the-less an intelligent program. For example, the program has been designed to sync the clock of the user's computer with the clock used by Ebay. This is critical to the sniping success of the software. Imagine losing a prized bid by one second because of a timing difference.
Another "smart" function of this software is its ability to scan the Ebay database, and capture items being watched, sold, or bid on by the user. It does all of this in just a few seconds, and places those items on the display screen.
It might be nice if future versions of Auction Sentry contained enough artificial intelligence to track the user's buying and selling habits, then use this information to scan Ebay looking for auctions that might match the user's "habit profile". I would probably find more opportunities for buying and selling if this technology were a part of the product.
When I buy a product, I am always a bit skeptical about the product claims. I hate spending my hard earned money on products and services that fall short of their marketing hype. With Auction Sentry, I did not have to worry about that. The seller provides enough "free trial" time to evaluate their claims. Based upon my evaluation of the product, they deliver what they promise. I personally verified every product claim that Auction Sentry made on their website. There were no false claims or misrepresentations.
As I started my evaluation, I was a bit concerned about how I would be able to verify the claim that updates were free. Well, as luck would have it, I received an online alert that an update was available. I simply followed the instruction provided, accepted the newer version, and had it installed within a few minutes.
At the $24.95 initial purchase price this software is a real bargain. In the few days that I have been using Auction Sentry Deluxe, I have won four bids, and made one sale. The combined savings and profit from these five auctions came to considerably more that the $24.95.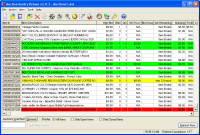 If I were to rate this product on a scale from 1 to 10, with 10 being the most favorable, I would rate it an eight. I base this on three criteria. They are: likes, dislikes, and missed opportunities.
Likes:
* I really like the competitive bidding advantage that the snipe bid and alert features gave me.
* It was very useful to be able to mass upload the auctions that I was watching and selling.
* It was very easy an intuitive to place a snipe bid on an item.
* I liked how much control the user has in setting the parameters for tracking changes, displaying alerts, and placing snipe bids.
Dislikes:
* I do not like the fact that items I sell are not highlighted in a color on the display screen. Lost and won bids are highlighted, but successful sales are not. (See image above.)
* I do not like having to provide the information for the "profit tracking" on items that I am selling. (See image below.)
Missed Opportunities:
* I would like for the software to track and profile my bidding and selling activities, and use that data in an artificial intelligence program that would continually scan the Ebay database, and send me alerts containing auction information (open and completed items) that I might be interested in.
As a buyer, I would like to know what new items are listing on Ebay, that I might be interested in buying. If Auction Sentry could collect my bid habits, build a user profile for me, scan Ebay for items based upon my bid habits, and alert me when a similar item listed on Ebay, it would help me to find more opportunities to purchase items of interest to me.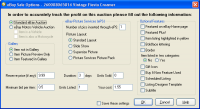 As a seller, I would like for Auction Sentry to collect my selling habits, scan the completed Ebay listings, and email me a report of what similar items have sold for,
I enjoy using Auction Sentry Deluxe, and I look forward to using future versions of their products.