Bitzipper
BitZipper v. 5.0.1
by Charles Akin
02 Aug 07
There are some really decent compression/extraction programs on the market, but in my opinion BitZipper is the best product for the money. At US $24.95, it is very well priced for what it does.
Software developers have done a great job of bringing us some really useful software during the past few decades. With the click of a mouse, and usually a credit card number, we can buy great programs on the internet. With few exceptions, these are self extracting downloadable program files. Sometimes however, these files are not self extracting, and the files can be quite large.
Fortunately for the consumer, the folks at Bitberry Software Company have addressed these problems with their very user friendly BitZipper software. I recently downloaded the 3.07 Mb trial version of BitZipper. It is a great example of how the folks at Bitberry have used their own program to deliver a useful product.
I have been using the free thirty (30) day trial version for a few days, and I am delighted at how easy it is to use. Most of us who zip and unzip (compress and extract) files are familiar with the WinZip and PKZip tools. Good news! BitZipper is completely compatible with these tools.
The BitZipper control panel has a very comfortable feel, and it is very intuitive. The control panel consists of six menu options and eleven icon buttons. Actually there are twelve icon buttons, but one is used for purchasing the software.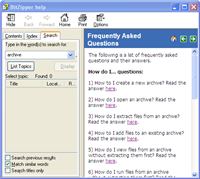 The help system is well documented and covered the few questions that I had about the product's use. In addition to the typical Contents, Index, and Search functions, this help system also includes a very concise Frequently Asked Questions section. If you are new to the zip process, then I encourage you to download the trial copy, and use the help system to acquaint yourself with the terminology. BitZipper help has done a great job of explaining the terms.
Through the menus and icons on the BitZipper control panel, users can easily create a new archive, open an archive, move, copy, rename, and email an archive. These archives (a collection of files stored in a single file), can contain photographs, music, computer programs, videos, etc.
So why use an archive? Simple! It makes it easy to organize files for storage, compression, viewing, and other batch activities. Compressed files save disk space, and make it faster and easier to send those files via the internet, or over your local area network.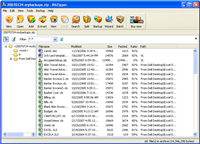 BitZipper runs on Windows 98, Windows ME, Windows NT, Windows 2000, Windows 2003, Windows XP and Windows Vista. I have not experienced any resource performance problems or system conflicts while using the product. It seems very stable.
I make it a practice to review the developer's website and check the hype before I download their software. I did this same thing with BitZipper. I reached three conclusions as I reviewed their site. First, they have some believable customer testimonies. Second, they do a great job of defining what their software can do and how it does it. Third, this program is powerful! It is capable of creating 10 regular archive types and seven self extracting ones. It is also capable of extracting 23 different archive file types.
As I evaluated the trial copy of BitZipper it became very clear that the product measures up to the developer's hype.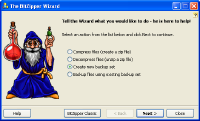 Usually, I find something that I think is lacking in a product, but that is not the case with BitZipper. I am so impressed with the product that I am switching from my favorite extraction software to this one.
If you are brand new to using this type of program, you will appreciate the really cool wizard that BitZipper uses to guide you through the processes for compressing and extracting files, creating backup sets, and backing up the files. It just does not get any easier than this.
There are some really decent compression/extraction programs on the market, but in my opinion BitZipper is the best product for the money. At US $24.95, it is very well priced for what it does.
Now available at
SerialDealers.com
for an unbeatable price, I highly recommend grabbing a licensed, full-version copy of Bitzipper for your very own while there is still time and inventory!