Brainstorm Review
BrainStorm v. 3.5.2
by Charles Akin
28 March 2007
For the most part, I find this program to be a very useful tool, and, at approximately $39.00 USD, the price seems reasonable. The 30 day fully functional trial version will give you plenty of time to assess that value for yourself.
Please note that this review is about version 3.5.2 and the current version is 3.6. Features as well as bugs may or may not have been changed since the version upgrade. Always refer to developer homepage for more information.
I'm a writer, planner, and organization freak with a passion for brainstorming. As you might guess, this passion has fueled my interest in software applications that will help me collect, organize, and develop my ideas in meaningful and productive ways.
Lately, I have examined several non-linear mind mapping programs. These programs are very powerful, tech-intensive, and expensive applications that provide the users with graphical representations of the inputted ideas. They certainly have a place, but not in my world.
I'm a word focused individual. I like working with text. I am always looking for the perfect text based brainstorming tool. Recently I discovered BrainStorm Version 3.5, Build 2. This may not be the perfect tool for my purposes, but it comes closer than any product that I have used in the last few years.
Although BrainStorm is new to me, it is by no means a new product. This intriguing program has been copyrighted by BrainStorm Software Ltd since 1981. It began as a DOS application, but creators Marck Pearlstone and David Tebbutt enhanced the program and have produced a "user-friendly" windows version. Their experience factor with the product combined with the long market life, gives me a high level of confidence with both the product and support.
BrainStorm 3.5.2 is a 1.84MB file that I was able to download and install in just a few minutes. I use Windows XP Pro. It runs very smoothly for me. I do not know how it will perform on other older operating platforms, nor do I find any reference to how the program will work on the new Windows Vista platform.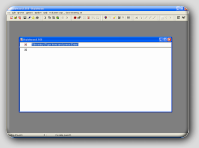 As a writer and thinker, I am always attracted to blank slates. If those slates happen to include some interesting looking tools that help spawn new and interesting ideas, then that makes it even more attractive. Fortunately, BrainStorm has all of this, and the plain presentation of the main screen minimizes any new product anxiety.
The product is intuitive enough that new users can jump right in and do some experimenting without reading any of the any of the online user instructions. However, before actually starting that first serious project, it is best to read the "Overview" chapter. This chapter covers the "First Steps", which consists mostly of screen images with brief explanations. It's a nice way to get comfortable with the BrainStorm.
The "Overview" chapter goes on to provide "quick start" information to get new users familiar with the product's features in a minimum amount of time. The documentation is adequate, but not as well written as it could be. The good news is that the product is easy to understand, so there is no real need to depend on the documentation to learn how to use BrainStorm.
BrainStorm is not just an outliner or brainstorming tool. It is much more. The program has been designed to help the user capture and manage information in a meaningful and simplistic manner.
Users can add thoughts and other information to the BrainStorm slate through direct keyed input, copy and paste, and file imports (Merge File). The "Magic Paste" feature automatically does the pasting for the user, placing the information on the slate at the active entry point.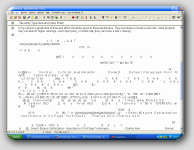 The "Magic Paste" feature does a great job, however I am not as impressed with the "Merge File" functionality. I tried a number of different file types, and the only one that worked well was another BrainStorm file. In the screenshot included here, I used the "Merge File" feature to import a Word document. As you can see, it will require a good bit of reworking to be useful. I am not sure the effort will be worth it.
Organization of the information is made easy by promoting or demoting entries. This is achieved by double clicking the entry icons. Entries on the slate can be reordered through the typical drag and drop method.
Keeping things simple, BrainStorm limits file output options to text and HTML files. This should certainly be enough. Users can easily manipulate text files as input to other applications, and the HTML output demonstrates the usefulness of the "Namesake" feature as well as hyperlinks of parent/child entries. By the way, "namesakes" are entries that contain identical text. Time and space do not permit me an opportunity to do the topic justice in this article, but "namesakes" serve some very useful purposes.
The developers have complete confidence in their product. Potential users can download a fully functional trial version of BrainStorm. The trial version is good for thirty (30) days. While it will not take the full 30 days to learn how to use the product, it is nice to have that much time to try out all of the features.
Although the developers of BrainStorm do not really introduce the user to any new technology, they do make good use of existing technology to provide the user with a productive information management tool.
The "Magic Paste" and "Namesake" features are good examples of this. There is nothing new about being able to paste, but BrainStorm will automatically paste the information at the active entry point. The "namesake" feature seems to be the common autotext technology used by other programs, but it is used in BrainStorm to give the user a "heads-up" that similar information has already been captured in the active BrainStorm model.
I've been using BrainStorm for about ten days now, and I like it. I have been able to use it to create and manage "to do" items, grocery lists, and writing projects. I think the possible uses for this product are unlimited.
The developers of BrainStorm claim that the program will make it easy for users to capture information, organize it, add to the information and embellish it as desired. I agree. The product does this and much more.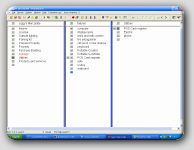 I am particularly pleased with the ability to view split screens. This visual representation allows me to see parent/child relationships and "namesakes". In the screenshot presented here, "fixtures" has a child relationship to "Jiggy's Mercantile" in the first screen, but it takes on the parent relationship in the second screen. As you can also see in this example, there is a "namesake" called "POS Cash register". It is an identical entry under "fixtures" and under "utilities".
I am a bit disappointed with the way in which the program handles links to external files, programs, web and email addresses. It is true that these links are easily activated through the "Magic Launch" feature, but, it does not appear possible to hide the path information behind keywords.
For example, I would like for the words "Akin Associates" to appear on my slate, with a link hidden behind those words that would take me to www.akinassociates.com. Instead, the actual path must be displayed. It cannot be hidden.
For the most part, I find this program to be a very useful tool, and, at approximately $39.00 USD, the price seems reasonable. The 30 day fully functional trial version will give you plenty of time to assess that value for yourself.
Brainstorm was also Reviewed By Zari Ballard, you can find her findings by clicking this link:
Brainstorm Review By Zari