Catstudio Catalog Review
CatStudio Catalog Publishing Software v. 3.2.2
by Charles Akin
12th May 07
I would have expected this product to sell for much less than it's $92.00 USD selling price. However, I encourage potential buyers to use the trial version and decide that for themselves. After all, as the old saying goes, "beauty is in the eyes of the beholder".
Today many successful merchants are relying on catalogs as their primary marketing tools. They use web catalogs, catalogs on VCD, and paper copies. Why? Simple - catalogs have a proven success rate. If you don't believe me, just count the number of catalogs that you receive every month. I generally receive no less than five a month.
As a business person, I made an assumption that they were probably cost effective, and easy to create. That's not necessarily so. I found this out when I began researching catalog publishing software. There are several of these on the market, so I have decided to evaluate and report on some of them. If you happen to be interested in this type of software, I think you will find these reviews to be worth the read.
I began my project with a product called CatStudio. This particular software is from Evinco Solutions Limited. I downloaded and installed the 27.8 Mb fully functional trial copy (version 3.2.2). The output from the trial copy does contain a product watermark, but other than that I have not noticed any limitations.
I'll begin this particular review by telling you that I am disappointed with CatStudio. In my opinion, it is not user friendly, intuitive, or well documented. The software does come with a self contained "Quick Start Guide", but it provides a bare minimum of information. A visit to the "Help" menu is a wasted effort. When I opened this menu and selected the "Help Contents" option, I received an error message that informs me that the help file was created for a language not supported by my version of windows.
My version of Windows is Windows XP Pro. According to their web page, the system requirements are:
· Microsoft Windows 98, 2000, XP Professional or Home Edition
· 128MB of RAM
· Up to 70MB of available hard-disk space
Okay, I have XP PRO. So, why does the "Help Contents" option not work? I checked the online documentation and found no answers. I checked the "Q&A section their web site. I found nothing. I checked the "knowledge share" section of their website, and again found no answers. I have sent them an email, but have not received a reply.
The master screen is very plain, and a bit confusing. However, after some experimenting, I discovered that there are two ways to create a new project. You can select one of the three icons (web, film, print), or click on the "File" menu and select "New Project"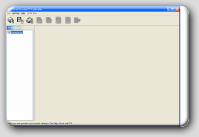 I believe that most users will find it necessary to experiment with the product to really understand how it works. Opening a new project is pretty straight forward. The user determines whether a web, film, or paper catalog is needed, and then opens that project type. Maybe my expectations are too high. I would have thought that it would be possible to create one project and export it to all three catalog formats.
When a new project is opened, the user is given an opportunity to answer "yes" or "no" to the question "Inherit Master Attribute". I recommend that first time users answer no to this question. It is best to experiment and see the impact that the attributes have on your content, before deciding that you want the "default" attributes applied to every one of your projects.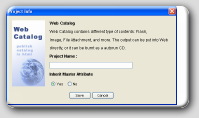 In my opinion, the catalog design is too structured. Users simply have little control over the design and layout of the finished catalog. Essentially the only things the users has control over are:
· Type of catalog. Web (HTML) ,Film (Quick Time), and Print (Portable Document Files)
· Attributes - Attribute types are limited to Date, Floating Point Number, Integer, True/False, and Text.
· Skins - These provide some control over the appearance of the content's list items. Users can select background colors, background images, font type (3 choices), font size, and text alignment that are applied to "field" and "value" for each list item.
· Content Types - These vary based upon the project type. There are more options for the web catalog than there are for the movie and print catalogs. The content types are: attachments, catalog, HTML, Image, Image/Flash animations, Section Page, Text, and Table of Contents. The Table of Content default is very unprofessional looking with very limited formatting capability.
· Catalog Layout - The choices for the layout includes album, page, table, and grid.

If the user has significant HTML coding experience and a library of full of design images, then they can enhance their output some, but the database structure of CatStudio is simply too restrictive to produce professional looking catalogs.
The only real claim that Evinco makes about CatStudio is that users can create catalogs in web page, movie, and print formats. I found this to be true. In my opinion, Evinco will need to make some major design changes for users to be able to output professional looking catalogs. I also feel like it would be in their best interest to invest in a more comprehensive and user friendly help system.
I would have expected this product to sell for much less than it's $92.00 USD selling price. However, I encourage potential buyers to use the trial version and decide that for themselves. After all, as the old saying goes, "beauty is in the eyes of the beholder".