WinFlash Educator Review
WinFlash Educator v. 10.00.03
by Zari L. Ballard
27 Februaury 07
All in all, for the right purposes, many elements of Educator, including the richness of features, the comprehensive Help Index section, and the wealth of information attainable from both the Open Windows Customer Service and website itself, make the $39.95 full purchase price a worthy investment.
Please note that this review is about version 10.00.03 and the current version is 12.00.02. Features as well as bugs may or may not have been changed since the version upgrade. Always refer to developer homepage for more information.
The WinFlash Educator home-schooling/study-tool software program is the Big Daddy of the Open Windows family of teaching and study assistance programs. A full-featured and more comprehensive version of its predecessors, the award-winning WinFlashScholar and Basic, Educator, as an educational assistance tool for home-schooling, would be, without a doubt, the perfect software in both efficiency and organization.
Currently available as a full-featured trial download - with a final, reasonable buy price of $39.95, Educator proved an easy install - and eventual uninstall - using Windows XP SP2. According to the documentation, the software will also work with Win 9x, ME, NT, 2K, and Vista. For all bugs or unsuccessful installations, helpful troubleshooting information is available from within the Educator program itself, and also from the Open Windows website, which provides fast and friendly Customer Service and all required patches for resolving issues.
I chose to review the program as a student study tool while gearing up for a Novell Netware applications exam. Utilizing the program for this purpose, as a student - compared to, say, a home-school educator, I found the software time-consuming upon initial set-up and, therefore, slightly, though not entirely, inefficient.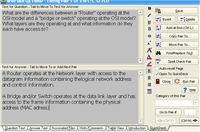 The tutorials, although written to accommodate students unfamiliar with the most basic computer functions, were difficult to follow and, being fairly computer literate, I found this disturbing. My suggestion to this issue, for those students educated in computer basics, is to skip the tutorials and simply dig into the program.
My problem with study-assistance software programs is this: no matter how comprehensive the tools, no matter how user-friendly the interface, no matter how many varieties of study methods offered, the bottom line of the program's usefulness are the motivation levels of the students. First, he/she must decipher the instructions for the various tools/methods and, second, he/she must input all the data, according to the instructions, so that the end result is a presentation of information that guarantees an easy grade.
For the extremely disciplined student, this type of software works. For a student , such as myself, who is capable of earning very good grades by studying "as-I-go" from hand-written text notes, the preparation for getting Educator up and running to a functional efficiency takes much too much time. Now, this is not to say that a disciplined student implementing Educator at the beginning of each semester, and consistently maintaining the data input, would not benefit 100% from this method of study.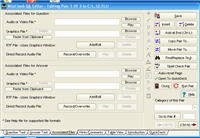 In spite of my undisciplined study methods, I did find more positive elements about Educator than negative:
My likes:
* Educator can import directly from text, delimited text, .csv, and columnar data on the Windows clipboard. This does allow for fairly uncomplicated "flash card" or study deck
creation from materials/documents already existing on your computer and for working with your PDA.
* The New QuickDeck editing mode, once one deciphers the instructions, allows for fast creation of straight text-only study decks. Using the tab key keeps the process moving between the Question and the Answer sections.
* The Text-To-Speech support - always a fun option to use when available - allows your PC to read your study decks to you as you, presumably, do other things within the same room. The decks can transfer to .wav or .mp3 format for using alternate listening methods other than your PC or PDA.
* For home-schooling, Educator is perfect for tracking per-student information, building student study materials, and creating/grading quizzes and exams. As I stated, Educator is the way to go for the home-school educator.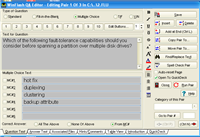 * At the Open Windows website, a multitude of extras such as Skins, Flash Decks, patches, updates, and more, are readily available for download.
My Dislikes:
* The tutorials and documentation are obviously meant to accommodate all students. One section, for example, actually explains how to find "My Computer" from the desktop, open it, create a file, and so forth. While it is admirable that the information is geared for everyone, the reading content becomes so unnecessarily lengthy and detailed that the most highly computer literate student can become confused. The best way to work with the software is to just dig in and find your way around.
* As a study tool, creating the text-cards or study decks takes much preparation and aforethought by the student. Although Educator offers some fine study tools, unless a student begins from the beginning with each subject, and remains disciplined in keeping new data entered in preparation for upcoming tests, it becomes too easy to fall behind and possibly lose interest.
* Twice, while working within the program, Educator became non-responsive and I was forced to restart. Going back to the website FAQ at Open Windows, I did notice several similar complaints when using XP. However, there were also several remedies posted. I would advise to save work often when preparing cards or compiling tests.
All in all, for the right purposes, many elements of Educator, including the richness of features, the comprehensive Help Index section, and the wealth of information attainable from both the Open Windows Customer Service and website itself, make the $39.95 full purchase price a worthy investment.