WriteSource
Write Source v. 5.2.6
by Zari L. Ballard
21st. April 2007
I found this software to be completely confusing and far more work than it could possibly be worth. Although I loved the Dictionary and Thesaurus option, Yahoo has one of each in its toolbar, as does Google, and they work just as well.
Please note that this review is about version 5.2.6 and the current version is 5.3.2. Features as well as bugs may or may not have been changed since the version upgrade. Always refer to developer homepage for more information.
WriteSource has been listed on my "To-do-for-Review" schedule for some time. The description of features I found at the Alcoda Sofware website, home to the design team for WriteSource, offered text editing options that I have sorely missed in my usuage of both NotePad and WordPad. With the majority of my work slowly becoming Web-specific content/copy writing, I am required, more and more, to submit all work in text format. My frustration with writing in text format comes, of course, from many years of working within Microsoft Word and, on the rare occasion that a client can open the file extension, Works 8 and its earlier versions. Expressive writing in text format becomes a challenge without the use of simple "effect" options such as one/two-word bolding, and/or italicizing.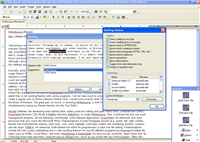 WriteSource 5.2.6 is actually a a combination of Alcoda's two most popular Suites, ExactWord (formerly YTS Words) & EditExt (formerly EditorPro), with several additional word management options added to the mix. In search of a method to increase the effectiveness of my text writing, I finally opted to download the WriteSource trial version and give it a fair test. The good news, of course, in choosing WriteSource, is that I'm able to test the software as I simultaneously write my Review. The bad news is that I found, hours later, this software to be completely confusing and far more work than it could possibly be worth. Although I loved the Dictionary and Thesaurus option, Yahoo has one of each in its toolbar, as does Google, and they work just as well.
An easy install, the WriteSource 5.2.6 software contains the following applications, each also available for purchase individually, as its main features:
ExactWord:
An advanced, rich-text word (.rtf) processor that functions much like Microsoft Word. Feature/options include paragraph layouts (e.g. justify, left, right, center), all the familiar font styles and format options (bold, italic, size, color, highlight, subscript), bullets, numbering, borders, margins, and tab stops.
EditExt:
An advanced, multi-tabbed text editor for programmers or plain text file editing. Feature/options include full-color syntax highlighting and code handling features for an impressive list of programming languages/multiple file types such as HTML, Visual Basic, and more.
WordSpring & InstantSpell:
On-the-fly Spell Check tools that utilizes a pop-up dialogue box (WordSpring) much like a Word program, and a copy/paste editor for checking long documents (InstantSpell).
30,000 word Thesaurus and 150,000 word Definitions Dictionary:
30 + Spelling Dictionaries that cover several different languages, as well Medical, Legal, and Technical terminology.
The Alcoda website, while offering general e-mail support to all users, and limited phone support for licensed users, provides very little useful information relevant to actually utilizing WriteSource or, for that matter, any of their "award winning" listed software. I found this very unusual for a developer site, and expected that all needed information must be in the Help section of the proigram itself.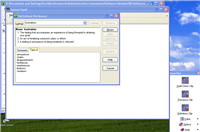 The WriteSource software is a quick-and-easy install. A vertical Smart Bar, which basically runs the program, immediately rises from the lower right-hand of the screen, and, while the user may adjust its "transparency", will remain in view for the choosing of options and features. The Smart Bar first consists, from the top down, of three large icons - a Spell Check Clip, a Thesaurus Clip, and a Definitions Clip. Just below the Definitions Clip is a much smaller Editor icon with a drop-down menu offering EditExt, ExactWord, and Instant Spell. Just below the Editor icon is an Options icon with a menu offering the transparency option (which I learned much later refered to the Smart Bar and whether it disappeared a little, a lot, or altogether), General and Spelling option boxes to check or uncheck, and an option to "Edit the Custom Dictionary". The last and final icon, below the Editor, is the Help icon.
Without knowing exactly how to begin, I opened a blank Windows NotePad, titled and saved it, and began to write. Always frustrated when having to leaf through a Dictionary/Thesaurus as I write, I focused, at first, on using these two options. Clicking on the Spell Check Clip, a window opened stating - exactly as written: "You have attempted to use the Spell Check Clip Board, however there is nothing in the Windows Clipboard. Please verify that you have copied the desired text and initiate the Spell Check Clipboard again".
What?
The Thesaurus Clip offered what looked like a workable window, but would not allow me to enter a word with no explanation as to why. The Definitions Clip, however, allowed me to enter words and gather as many definitions as I needed.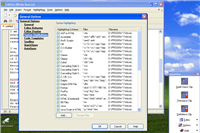 I soon discovered, through the Editor options, that, invariably, I would have to copy and paste my text, depending upon the required option, into different editors. My original NotePad page became useless, although later, in the Help section, I found it clearly stated that I begin "by opening a blank Note or WordPad". However, after being asked to verify my text by that odd pop-up window, I searched the word "Clipboard" in the Index and found no listing. Then, by accident, I found the entry "MenuItem (Clip Board)" - yes, with MenuItem being one word, which lead me to a blank page and this explanation/definition: "Note: You do not have to do anything about the ClipBoard. It is just there in Windows, mostly unseen. Word Spring just uses it to spell check the word(s), which you have copied from your working application."
True story.
Things went downhill very quickly. I made some progress after pasting my Review into the ExactWord editor, and enjoyed utilizing familiar Word tools (e.g. bolding, fonts, indenting, bullets, etc). Spell Check, however, would not run the entire page when tested, nor would it erase the "red underlining" of misspelled words even after the words had been corrected. I was able to use the Dictionary, a great tool that included adverbs and adjectives as well as definitions. The Theasaru worked only twice, and I am still unsure of what prompted it to do so, but I loved that option as well, and it provided terrific alternative words and suggestions to my entries.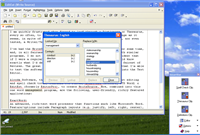 EditExt is an entirely different editor altogether. I pasted a portion of my text into this option, but found it contained nothing new for the simple text I was typing. However, a drop-down menu from, oddly enough, the "Highlighting" option on the toolbar, displayed an incredible list of the programming languages available in EditExt including AWK scripts, C+ + Builder, Cobol, Delphi, FoxPro, HTML, Java, Java in HTML, MS-DOS Batch, Perl, Python, and many, many more. I was more impressed with that list than with any other option in the WriteSource software. EditExt could very well be a programmer's dream text editor.
The Help section, which contained numerous misspelled words, sentences so gramatically incorrect that they were near impossible to follow, and full sentences and/or random single words with lines drawn through them (?), needs a complete overhaul. I was very confused by the lack of intelligent content at both the website and within the Help section.
Although I believe the Suites combined to create WriteSource 5.2.6, ExactWord and, more specifically, EditExt, are probably very useful and productive as separate software products, WriteSource, alone, is very time-consuming and completely lacks the information needed to use it properly.
WriteSource is currently available for a 14-day trial download, with a final purchase price of $49.95. Trial versions and prices for the individual Suites are listed on the Alcoda Website, and I would recommend trying them one-by-one to fully appreciate the features and options.